Wheeler Burden is the leading man and main character in this book. While what he did was a little too fantastic (famous musician and writer, baseball legend, and who looks like Michelangelo's David) I was definitely drawn to him. His amazing credentials are only part of the attraction for me, the other part was that he still had a bit of modesty or maybe humility. I love confidence in men (a girl likes to know she can be taken care of) but unpretentious at the same time.
I know, that's hard to find. Generally you get one or the other. So I started brainstorming and came up with a few of my favorite leading men who have that quiet confidence.
Westley from The Princess Bride. This farm boy is the classic unassuming hero.
Noah from The Notebook. Swoon-worthy Noah is confident enough to approach Allie but mild enough to let her go.
Atticus Finch from To Kill A Mockingbird. A wise mild man with the guts to stand up for what he believes.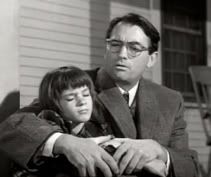 And to completely contradict myself, I do have to admit that there is a side of me that loves the "gods-gift-to-women man". Who doesn't have a weakness for Han Solo, Rhett Butler, and Mr. Darcy? To summarize, even if the book might not be your favorite, a strong leading man will get you through it.